Contour Plus Meter
Meets ISO 15197: 2013 accuracy requirements: 95 percent of glucose readings within 15 percent (or +/- 15 mg/dl) of lab reference

Fast and easy-to-read results (5-seconds countdown)

Under fill detection plus second-chance sampling (30 sec) and sip-in sampling

No coding technology eliminates errors due to miscoding

Small blood sample required – 0.6 µl

Can be used with capillary or venous whole blood

Analytical accuracy range: 10-600 mg/dl
What this meter does:The CONTOUR™PLUS meter system helps you test with ease and uses highly accurate CONTOUR™PLUS test strips.
Who this meter suits: The CONTOUR™PLUS meter system has simple and advanced features to meet your testing needs, from basic to more in-depth.
CONTOUR™ meters will display blood glucose measurements in your country's standard metric (mg/dL or mmol/L).
Features
  Self-guided testing helps you navigate the meter without any prior training
800 test memory
7, 14, 30, or 90 day averages
Easy to track your blood glucose pre-meal, post-meal and fasting
Set alarms to remind you to test
Testing in 3 easy steps
The highly accurate CONTOUR™PLUS meter is easy to use straight out of the box.
You're just 3 simple steps away from your test result.
Step 1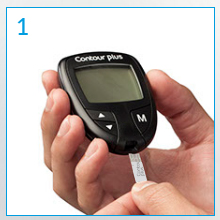 Insert the grey end of a CONTOUR™PLUS test strip into the meter. The meter will turn on.
Step  2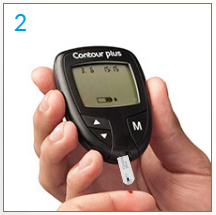 When the Apply Blood screen appears, touch the test strip to the drop of blood. Hold it there until the meter beeps.
Step 3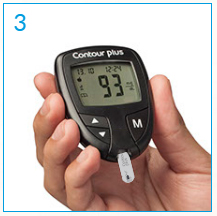 Your test result will appear after a 5 second countdown. To turn the meter off, simply remove the test strip.